Last week Jason's mom, Amelia, Josiah and I made our way to Savannah for a medical trip. We started with a GI appointment, the squeezed in plenty of play until the next medical engagement. Grandmommy chose the hotel based on the indoor pool and other perks.
Isn't the architecture beautiful?
This is what lack of self control looks like as my nice camera takes a hit and becomes very temperamental. Ugh.
We ship-watched off the back porch...
...before heading to supper at the Pirates' House, the location of my in-laws' rehearsal dinner.

A walk down River Street provided an unconventional bedtime snack, yes candy.
Our hotel was just a ferry ride away from Dr.Gospe's hotel.


I told him he would be able to spot us by Amelia's and my purple, only half-intentional but it is the color for Epilepsy Awareness. You know, like pink is breast cancer, yellow is childhood cancer, purple is seizures...and we were headed to visit with the neuro man.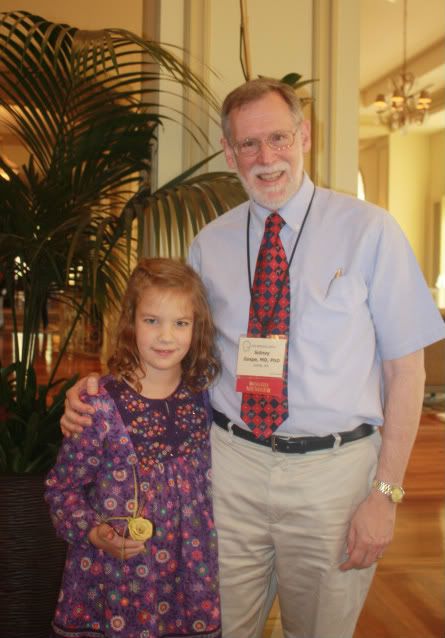 Amelia came home with a new favorite word, "Gospe" (he found that embarrassing) and a corn husk flower from the guy who's famous in our house. I came home with other nuggets, some sweet, some too big to swallow.
Here is a partial list:
Getting a GI to figure out Amelia feels a lot like getting a neuro to figure out Lydia in those early days. I leave appointments looking for a mirror. Do I have an extra head? Am I speaking gibberish? Is this really the first kid that's required you to think out of the box?

25 year ago Dr.Gospe was at this same pediatric neurology conference asking the older guys to teach him about their dealings with Pyridoxine Dependency. The consensus was that it was mythical. He had just seen it with his own eyes for the first time and set out to back up what he knew to be real.

In Amelia's lifetime the PD gene has been identified and testing has become commercially available in four labs across the US.

There are active dreams of including testing for this overlooked disorder on the newborn PKU screens.

Lydia's brain is proving helpful, the first studied since the 1970s when there was infinitely less understanding to guide examination.

For every answer found, seas of questions have been raised. PD research is still in it's infancy.

Roughly 200 cases worldwide have been identified in the 60 years since PD has been identified.

Many of those were diagnosed in retrospect, after their death. Only a handful have reached adulthood thus far.

None of them are known to be married.

I'm to continue dreaming big for Amelia, even though no one with her disorder has reached what I assume for her.

There must be a fine line between crazy and revolutionary, or perhaps no difference at all.
Our PD friends were not able to come for their visit due to illness. Amelia still asks about them daily. We've had our share of strep throat and other bumps but October didn't disappoint. It did leave me worn out though, mentally and physically.
Today I am tripping all over the other reason I was holding October dear, the last buffer before another holiday planning season, a love still lost. I want the joy back but not sure it will come without a fight this year, if then. One of the questions Nancy Guthrie asked to start conversation at our bereaved moms dinner table was "What have you incorporated into your holidays to make them (emotionally) easier?" There was no real solution.
So, my goal isn't easier this year but some form of special. Christmas fireworks at the beach? Something else unconventional? I just don't want it to blend in to the rest of the year. Oh for the makings of sweet memories with these little people rather than another grief concession.
Sophie's much anticipated 9th birthday is tomorrow. She is mere months away from lapping Lydia's age. We will indeed celebrate with a return trip to Rock Ranch. Sophie and I baked a cake, which fell, but she enjoyed the process and it will do. Hopefully my camera will hang in there for these festivities and find a repair shop before the next. Life goes on either way.
My mind is obviously still stretching while my soul seasoning. I'm recognizing beauty again. My appetite is returning. It's just a little out of reach most of the time still but getting closer. Dreams are a starting point. God protect me from trying to satisfy with pursuit of anything less than your good and perfect gifts.
James 1:17 was the message of a favorite praise song, stuck on repeat while delighting in Christmas lights strung all round my college dorm room.
Every good and perfect gift is from above, coming down from the Father of the heavenly lights, who does not change like shifting shadows.
Tonight I'll meditate on that once again and choose to rest in His plans for our family tomorrow, through the holiday season, and into bridal age both here and there.